Essential for our Casita is ground tackle (nautical term from my Navy days).
Solid rubber chocks are the best and won't blow away.
On the road we use the Tri-lynx chocks that integrate with their leveling blocks. Made in the USA, they're strong enough to use under the stabilizer jacks too. Each layer of blocks adds an inch of height. A 10 pack is plenty and they come with a zip up storage bag.
Another popular, but more expensive option is the Andersen leveler. I haven't personally used it, but at rallies, the owners I've met who use them swear by them. You back up with the curbed ramp behind the tire and stop when the Casita is level. Add the chock to lock it in place, and done!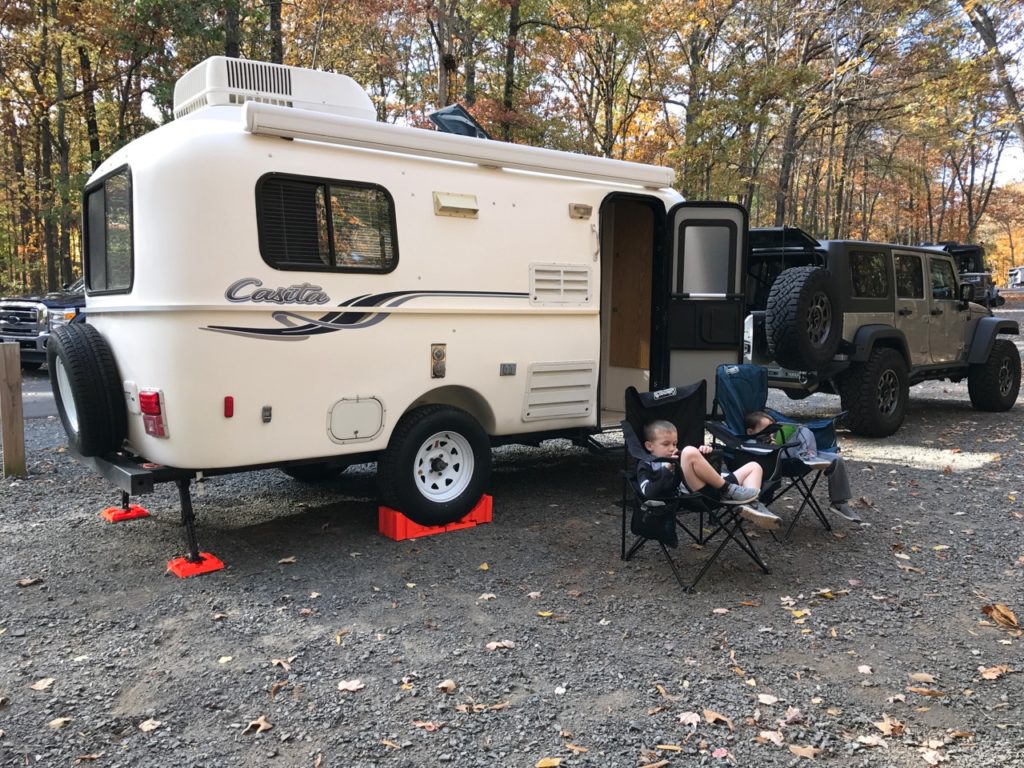 Tri-lynx blocks in action
Bubble Levels
Our trailer didn't come with any, so I added stick-on bubble levels, one to the front of the Casita, and the second to the trailer tongue.  The side to side level is graduated in inches so you know how many blocks to put under the tire.  The level on the tongue tells me when the trailer is level using the jack.
Breakaway cable upgrade:
The Fastaway 4′ coiled tether is a big improvement over the junky cable Casitas come with.  This one includes a new pin so replacement is easy as pulling out the old one, and inserting the new one.
I upgraded the jack to a Bulldog 5,000 pound capacity, side wind model which is much easier to crank up than the cheap top wind model that comes with the casita. Super easy to install, just 3 bolts. Make sure to support the tongue of the camper before removing those bolts by either hooking up to the tow vehicle or placing the tongue on jack stands and chocking the wheels.

We started out using a little yellow plastic cone to hold up the front of the jack. I upgraded to a heavier-duty red cone from Valterra. It works great on level paved ground, but for camping in the dirt or on a hill, read on…
For the ultimate home made jack stand that won't tip over, I made this our old growth Miami-Dade Pine. It was used during the build up of Miami and the Keys from 1800-1920's. Due to over-harvesting, it quickly went extinct. We bought ours from a reclaimed wood specialist for our home kitchen shelves. The 2×14's were originally floor joints in an old downtown hotel. We had enough left over to make a stand with 3″ deck screws. At $50 a linear foot, we probably have the most expensive jack stand ever built, but it's a great conversation piece!