---
These are our favorite camping items that we have bought, tested, and recommend. Click the photo to be taken to Amazon to see the product.
If something is no longer available, shoot me an email and I'll get back to you with a good alternative.
---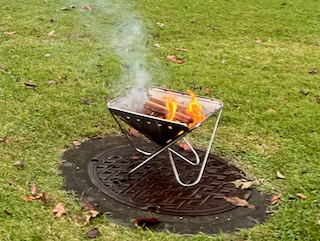 Snow Peak – Ultra-quality made in Japan camping gear
We love SnowPeak gear.  It started with a titanium mug and I was hooked.  Now I have a whole collection.  Single walled (for heating over fire), double walled, and utensils.  Recently we bought their stainless steel folding fire pit and it is amazing.  Click here for the Snow Peak store.
Solo Stove
We love our Solo stove. I own 4 of them in various sizes! The Ranger is perfect for a Casita as it fits under the dinette bed for storage. They produce much less smoke than a typical fire pit and you can use them in campgrounds that don't allow fires on the ground.
---
Recommended Tools:
The Klein 11-1 Screwdriver has everything you need, including a #2 square drive "Robertson" bit for Casita screws.
You need a 6 point, 1 1/16″ socket (plus a 1/2″ socket wrench and 6″ extension) to remove and replace your water heater anode.  For the half the price of an "RV" brand, this Tekton is the way go.
The Arrow RH200 is the best hand held rivet gun for your Casita.  It fits everywhere and is heavy duty.  I use it for most of my work.
If you have room to use it, the Astro 1423 hand riveter is a beast.  Lots of leverage so it's easy to use and it collects the broken off stems.  Perfect for big jobs like window awnings, working up on the roof, or pulling tri-fold "exploder" rivets.  If it fits, I reach for the Astro.
This flushing wand is the tool you need to clean out the hot water tank while changing the anode.  Insert it all the way in, turn on the water, and twist left to right as you slowly pull it towards you.  This will get all the sediment out of the tank.
Electrical:
This plug in voltmeter is essential for monitoring battery levels.
A surge protector checks the power post for proper wiring and can save your Casita from a power surge.  This compact affordable version "hides" under the electric box door so it's no visible to others.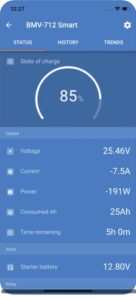 The Victron battery monitor shows you the exact electrical flow in and out of your battery on your smartphone. Monitor any current draws or how much charging you are getting. Easy to install, just wire between the battery and the negative cables.
---
A good multimeter is a valuable troubleshooting tool. Check voltage, current draw (amps), resistance, continuity, even temperature. This Klein even has a backlit screen. Also pick up this case with is big enough for the accessories it comes with.
Power adapters- you should have a 115 to 30 amp to plug into a home outlet.  I like this dog bone version, but they have different styles.  You can also get a 50 to 30 amp adapter in case you have to plug into a big rig spot and the 30 amp doesn't work or isn't there.
A circuit tester is a great $10 device to tell you if your outlet is working, the campground power is wired correctly, and if you push the button, it'll trip the Ground Fault Interrupter (GFI) to make sure it works. The Casita GFI is next to the bed with the "test/reset" button on it.
Plumbing & Water
You need a water pressure regulator since the Casita plumbing is rated for 50psi and some campgrounds can exceed 100psi.  This one is much nicer than the cheapo Camco RV one.  It has a much higher flow and is actually lead free.
You don't want grit and sediment getting into the camper's water system so you need a water filter.  We prefer these cheap disposable ones.  They work great and last a few months before replacing them.  For the first purchase, get this one with the flexible strain relief, it's a good deal.  For refills, buy the 2 packs. Put your pressure regulator in front on the filter so it doesn't explode.
---
Gear:
The Alps Mountaineering Sidekick table is perfect as a camp chair side table, foot stool, or in a pinch, a visitor can use it as a stool.  The Alps Mountaineering dining table is great for cooking and serving.  The roll top is aluminum so it's heat proof for stoves and offers easy clean up.  
A pour over coffee filter holder is essential for camping.  Toss in a #2 cone filter, grinds and pour over boiling water for an outstanding cup of coffee.  I prefer the rigid plastic one because you can see what level the coffee is filling up to, but it takes up more room than the collapsable silicone one.  I have both!
If you need to save space, these microfiber pack towels take up no room and dry super fast. We have a different color for each family member. They're available in multiple sizes. I like the washcloth sized face and the bath size. My wife prefers the huge beach towel size.
Interior Upgrades:
The house of teak wood floor mat is great for the bathroom. Keeps you feet dry when not showering and is comfortable to stand on. I recommend adding rubber feet to keep it from slipping around.
The oxygenics shower head is much improved in both saving water and having a great spray pattern to take an efficient shower.  It fits right in the Casita holder so no need to change it out. Currently the white is out of stock, but the chrome version is available.
This mirror works great in the bathroom. It attaches with removable adhesive 3M "command" strips.
The 3M organizer is perfect for holding toothbrushes in the bathroom.
This magnetic paper towel holder works great on the stove vent hood. You can smoosh them tight against the roll for travel to keep the towels from unspooling.
This OXO silicone drying mat fits perfectly on top of the stove cover.
Exterior Upgrades:
RV rugs keep you Casita clean.  They are made from a plastic strand material that doesn't hold water and the dirt can be shaken off before storing. 
Solid rubber chocks are the best and won't blow away.
Proven lock is the best trailer lock on the market. If you have to leave your Casita in a sketchy area, this is it.
These McGard super quality chrome lug nuts add a custom touch to the Casita.  They look so much better than the rusty Dexter nuts.  The set does both wheels.
The Camco Sidewinder holds your sewer hose on a gentle slope for better draining without needing to "milk" the hose, which is kind of gross.
The lynx leveling blocks are a good solution to level the Casita from side to side.  Use with the matching chocks.
This is a much better solution for the emergency break away cable.  It replaces the long cable the Casita comes with.
---
Bug Screens for the Furnace, hot water heater, and fridge
Keep bugs out of the appliances, they like a warm place to build nests.
---
Supplies:
The Camco water filters are critical to keep sediment and particles out of your water system.  If it's your first purchase, get this one with the strain relief included.  If you need refills, get a pair cheap here.
For the toilet tank, I really like these Porta-Paks.  After dumping the tank, drop one down the toilet and add some water. No bad odors and no mess.
The best wax I've found is McGuire's marine cleaner wax.
Geocel Pro-flex RV caulk is far superior to silicone.  It's a little harder to work with as it is very gooey, but it's strong and will last long long time.
Our website contains zero outside advertising.  No pop ups, no ads.  We do however have links to items on amazon.com.   As an Amazon Associate we earn from qualifying purchases.  If you buy something through our link, we get a tiny commission that goes towards our website expenses, while your price stays the same.