We don't like carrying keys. Our house and garage have keypad locks. Our kids can use keypads too. I recommend using an electronic keypad lock for RV's. At the time I couldn't find anyone on the internet who had installed one in a Casita. I took a chance, bought one, and it fit! Note this for 17′ Casitas with the flat doors, not the 13 or 16 footers with the curved doors.
Update: The newer RV locks looks a little different than my photos and includes a wireless key fobs.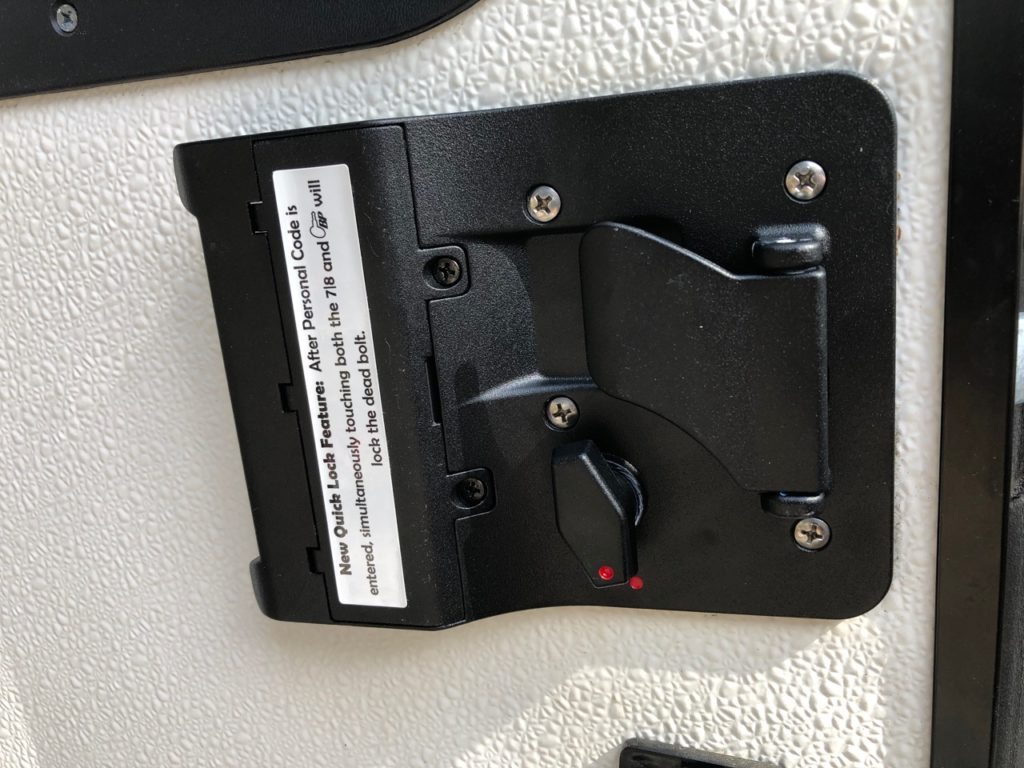 The deadbolt operates electronically with 4 "AA" batteries. You set a 4 digit code and punching it in opens the lock. Pushing the bottom 2 buttons at the same time locks the door. The keypad does beep, but I don't mind it.
I leave a key in our tow vehicle (it has a keypad too!) just in case the batteries die or it quits working. So far, so good.
To install it, remove the screws and the old lock comes apart. Then remove the 2 screws on the end of the door holding the deadbolt. Remove the old silicone sealant from the outside of the door. Next, assemble the new lock in the reverse order. The keypad has a gasket so it doesn't need to be siliconed in place like the old one.
Update: After installing a few and getting calls from customers, I've found that sometimes the hole in the door needs to be opened up a little more for clearance. Sometimes you can't raise the lock high enough to get the 2 screws in the faceplate. A little work with a Dremel tool and it'll fit.
Insert the batteries and program your custom code and you're all done.