Delicia came home for a week of "rest and relaxation" (R&R in military speak) during her 1 year deployment to Bahrain.  She hadn't seen the camper yet and the boys and I were ready to show off our camping skills having practiced a few weeks prior at Bull Run Park.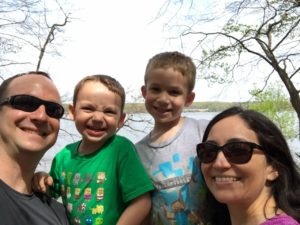 I booked a site at Pohick Bay Regional Park in Occoquan VA.  Pohick Bay is right on the Potomac River and offers boat rentals, hiking, a huge pool, disc golf course, as well as campsites.  Located 24 miles south of Washington, D.C. it's close to I-95.
I didn't pay as much attention to the reservation as I should have and found ourselves with an electric only site (no water or sewer).  Luckily I had filled the fresh water tank before leaving the house, but when I arrived it was half empty (there will be a modification article to fix that issue soon).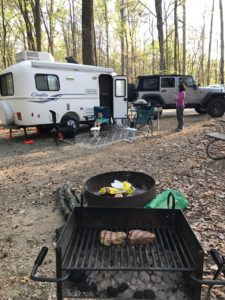 Here's our set up, grilling steaks on the camp BBQ, fire wood prepped, and the boys on their iPads.
The hiking was great for little kids: short loops through the woods, from lookouts over the water down to the waterfront where there are boat rentals, a very busy picnic area and boat ramp facility.
The boys also discovered the park is very active for their "Pokemon Go" iPad game.  They were busing running around "capturing" odd-named characters that show up on the screen when they view the iPad's camera.
With only 12 gallons of water in the tank and being close to home, we decided to skip the morning routines, pack up and head home for showers.  It was a short trip, but Delicia got a great introduction to our Casita and a taste of camping with the family.