With a couple of local camping trips under our belt it was time for our first real trip.  Delicia was back on deployment to Bahrain, and my Northern Virginia Jeep Club, The Black Goats, were having an off-road weekend at Rauch Creek off-road park near Tremont, PA.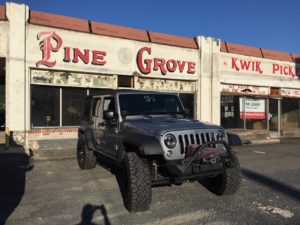 We booked at the Twin Grove Campground, in Pine Grove, PA.  It was our first "RV park" experience which is a little different from the state parks we were used to.
Twin Grove has a large camping store, a BBQ restaurant, playgrounds, pool, and other neat things to do.  We got a nice spot with full hookups.   There was even a cable TV hookup.  We don't even have a TV, but wow that surprised us as new RV'ers.
Tip:  A plastic RV rug keeps the dirt tracked into the camper at a minimum and makes for a great place to sit while on a dirt or gravel pad.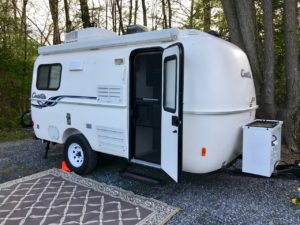 The boys trying out the new zero gravity chairs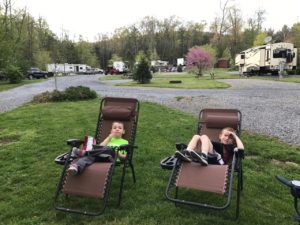 Did I mention an off-road park?  While I'd love to start a separate Jeep blog, there are just too many to go down that path.  But I will show off how much fun you can have with your tow vehicle if it's a modified Jeep.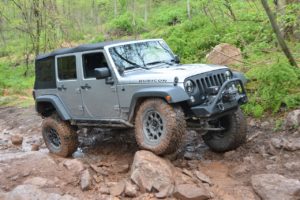 The man in blue is our "spotter" making sure we steer the right way to avoid as much damage and trying not to get stuck.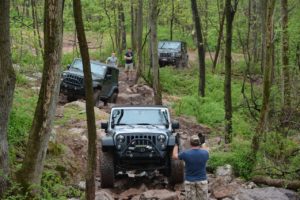 The boys loved it too!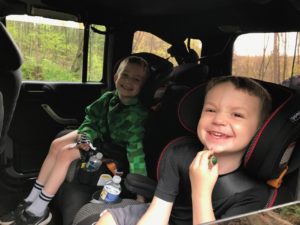 It was a great trip and we couldn't wait to plan our next!