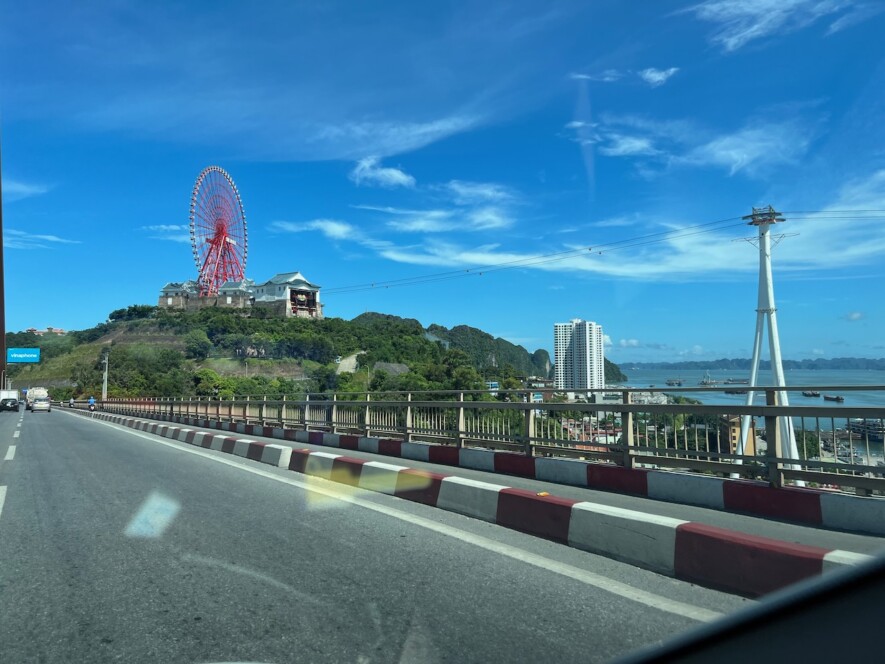 We flew to the capital city of Ha Noi and took a bus 2.5 hours South East to the famous Ha Long Bay. Trip guides say to take an overnight boat ride on the bay, which includes a bus ride to/from Ha Noi. We thought we'd be smarter and actually stay in a hotel in Ha Long to really enjoy the area, the beaches, and do a day trip on a boat instead. After which, we would bus ride back to Ha Noi, and spend the day sight seeing because our flight back to Japan wasn't until 0030 (1230am) that night.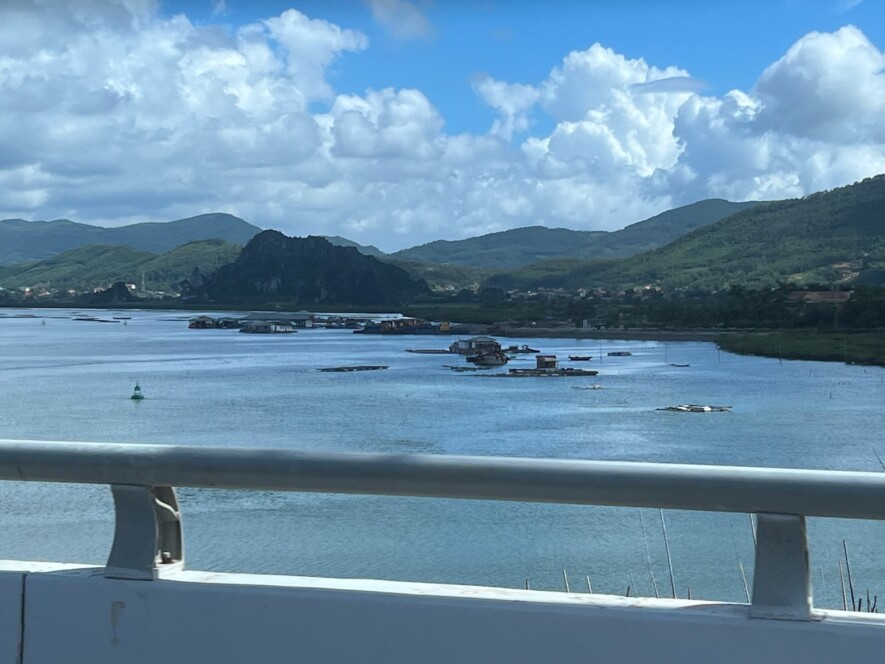 Upon checking into the high-rise Ramada hotel, we discovered we had made a mistake. Unlike the touristy location with beaches that we were expecting, it was a normal Vietnamese city. There was a huge wharf about 20 minutes away that housed the hundreds of boats that take tourists on Ha Long Bay, as well as more tourist-friendly accommodations, but they were all booked.
Most of those boats do multi-day trips and this town was a jumping off point. No beaches. The 31st floor rooftop pool was tiny and baking in the sun with no shade. The roof top terrace bar and lounge were shut down. There was a large indoor pool, but it was full of kids taking swimming lessons and no chairs were on the pool deck, but it was better than nothing.
Not much was within walking range of our hotel. We found a Circle-K store 15 minutes away and bought our essential bottled water, beer, and smoothies for the kids. We "googled" a pizza place nearby. After some navigating under and over the local highway we found it on the rooftop of a 5 story apartment building. We ordered on the ground floor, which I think was their living room, and they hustled the food and beers upstairs for us. The pizza was "interesting;" the fried chicken wasn't too bad. But they were so happy to have guests (we were the only ones), we told them it was good when asked. They even took photos of us and posted it on their Facebook page.
We didn't have boat ride reservations, deciding instead to "wing it". That morning as we're getting ready to leave, our oldest son reported not feeling well. I volunteered to stay back with him at the hotel, while the rest of the crew went onto their adventure.
Upon entering the wharf, a woman working for one of the boat companies quickly pounced on our group and whisked them away onto a day trip boat before they could even ask a question. After a short ride, the boat dropped them off at an entrance to a cave. They had to push through the crowds inside to get out the exit and then wait for the boat to return. A couple if warm beers and 45 minutes later the boat pulled into an open pier and the group boarded. The rest of the boat trip was spent sailing past amazing limestone formations. Passing on the kayak rides, they took lots of photos of the surreal landscape which was gorgeous. Biggest piece of advice on Halong Bay: do your homework on the boat trips. The view is definitely worth it but try to find a boat cruise that skips the touristy attractions in the bay.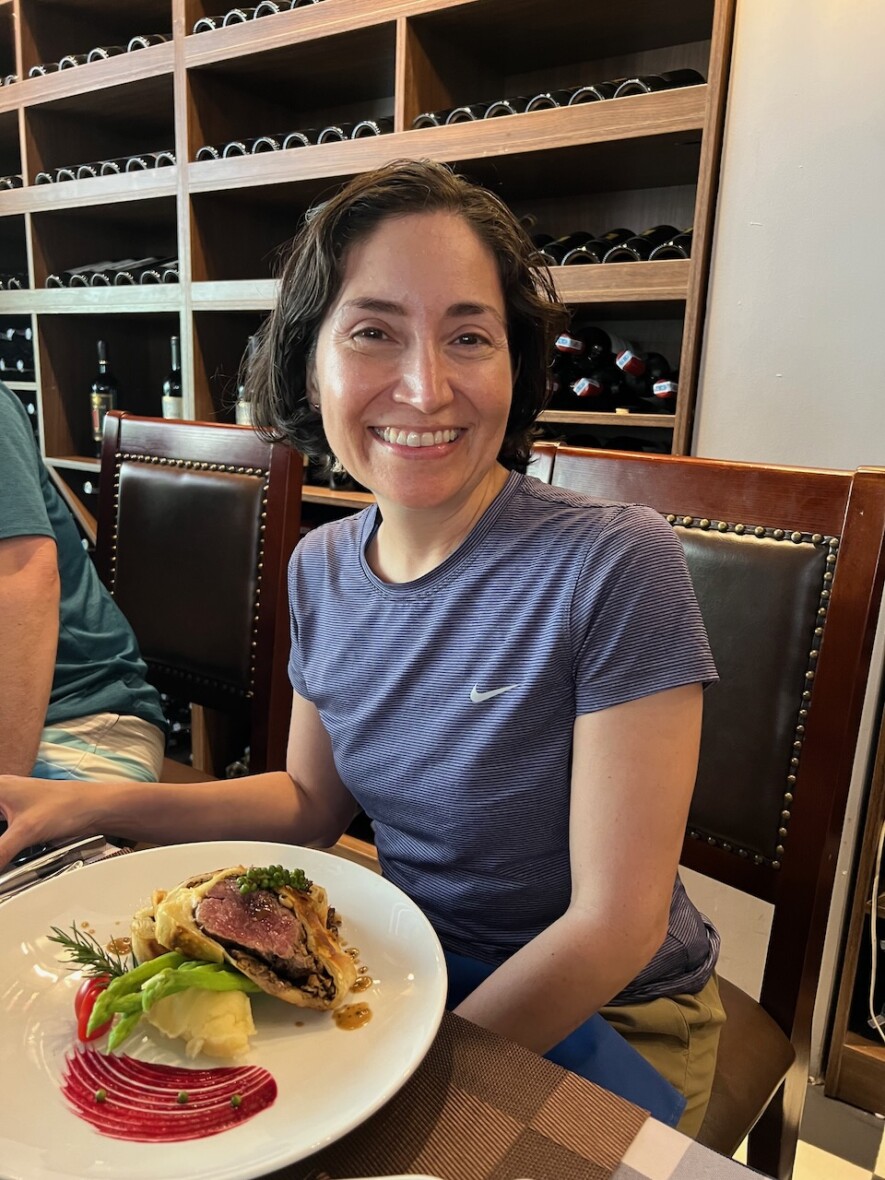 After the crew got back from the boat trip, we met for lunch in the tourist area. I couldn't get a taxi, so I hired a ride from a gentleman sitting in his SUV under a tree. The brewery the group picked was closed but it turned out I was in for an upgrade, a high end wine bar and steak house. We had an outstanding (and expensive) meal. Beef Wellington for the women, Filet Mignon for me, and some yummy wine. What a great ending to the day.
Up next, the bus ride back to Da Nang for the highlight of our trip.