Williamsburg, Virginia, the site of historic… well everything!  From the first settlement at Jamestown, to Colonial Williamsburg, to Busch Gardens Amusement Park, this area has a lot to offer history buffs and thrill seekers.
The Base:
We stayed at Kings Creek RV campground, Cheatham Annex/Yorktown Weapons and Naval Station, Williamsburg, VA.  Phew, what a title.
If you don't have base access, check out The American Heritage RV park.
Because the base has the magical word "Annex" in it, it's far from being a full featured Naval Base. Aside from its main role as a weapons station for U.S. Navy warships, it had a huge collection of derelict small boats, rusting steel, and old military hardware.  I guess if they're storing high powered weapons, they don't want anything "important" nearby in case they go off.
King's Creek had been recently renovated, yet they managed to pour the concrete pads out of level.  Maybe the government had to pay extra for that feature.  Across from our site were the bathrooms, laundry, and some empty vending machines.  I'm assuming the drink vendor didn't have base access.  Next to the building was an obnoxiously loud kid's game.  It was a contraption of pipes, buttons and speakers, in which children ran around while music blared out at an ear splitting volume.  Luckily it didn't get used much.
The Heat:
It was really hot and our spot didn't have shade.  To cool off we drove across the base to the swimming pool.  We were excited as it appeared we were going to be the only ones there.  We discovered the water was a green swamp and a rusty sign on the locked gate said, "Closed for Maintenance".  At least the mini-mart had beer for me and ice-cream for the kids.
I set up our folding screened porch contraption called "The Clam".  Once assembled, we sat inside to get out of the sun and avoid the mosquitoes. The marketing materials for the Clam didn't mention the "no-see-um" screen reduced the little airflow we had to zero.  It was more like a clam baking oven.  Disappointed, I folded it up and put it away and doused ourselves with bug repellant.  The clam does work great for bugs, but it's better in cooler weather.  (This picture of our clam was previously taken in the Shenandoah Mountains.)
It was so hot we retreated inside to the air conditioning until the sun got low and it was time to cook dinner.  Two kids who were into Star Wars raided our camp site and played with the boys (and their toys) until bedtime.  They made friends and enjoyed themselves.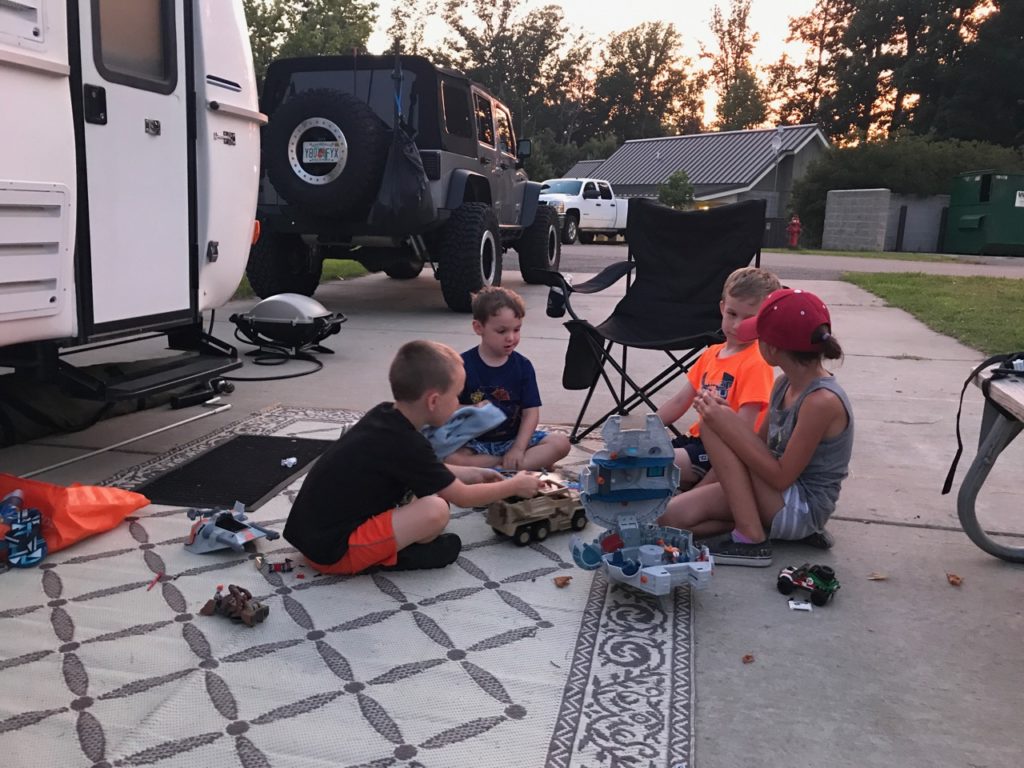 Jamestown:
I intended to visit Colonial Williamsburg, but after I researched on the internet, and talked with a college friend who lived nearby, we chose Jamestown Settlement instead.
Williamsburg is a town full of re-enactors, role playing the political sides of the loyalists and patriots.  There are shops to visit and all manner of things I could imagine would bore the daylights out a 4 and 6 year old.  I would save that for when they're older.
Jamestown has a full scale re-creation of the Jamestown Fort, 3 ships that delivered the first settlers from England, a Powhatan village, and a large museum.   We met up with my friend, his kids, and invaded the place.   There was plenty of room to run around, be loud, and explore.  It wasn't crowded and the parking was terrific too.
The fort had a working blacksmith and bakers making bread over a fire.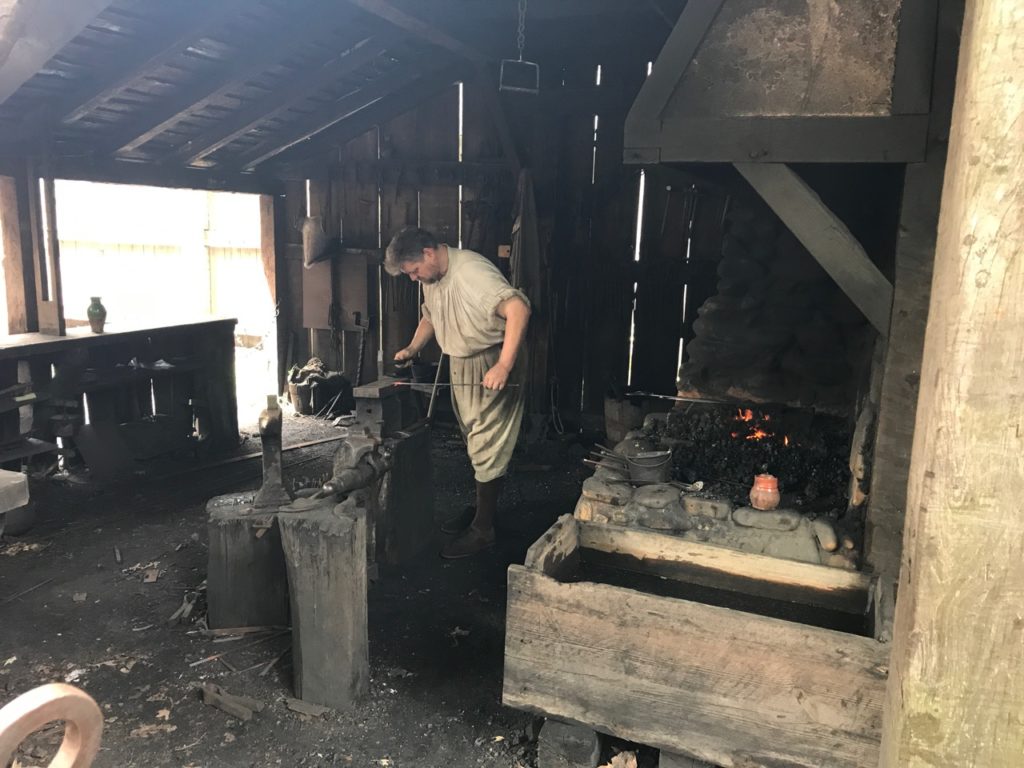 The ships, The Susan Constant, Discovery, and Godspeed, were awesome.  Not only are they authentic re-creations, but are functional and go sailing occasionally.   We spent the whole day there, had a lot of fun, and learned a lot.
Busch Gardens:
In all the years I lived in Virginia, I thought it was "Bush Gardens" as in a botanical garden.  Was I ever wrong.  It's "Busch" as in the beer brewing corporation.  Voted "The Most Beautiful Theme Park in the World" year after year, I could see why.  Each area of the park is a mini-country with theme food and drinks.   The rides looked amazing although I couldn't do the monster roller coasters with my kids, as they were too little.  Here's a video I took of the Griffon plunging 205 feet.
Our first ride was the swinging ship called The Battering Ram which goes nearly upside down.  I thought the kids would be scared, but Zach giggled, "My tushy is in the air!"  It was great.
The cable cars were my favorite.  From the 3 stations, we could whisk around the park and get a birds eye view.  The cable cars took us close to the big coasters so we got a sense, but not the trill, of riding them.
The boys really liked the rope bridge area and spent a lot of time and energy exploring the bridges and towers.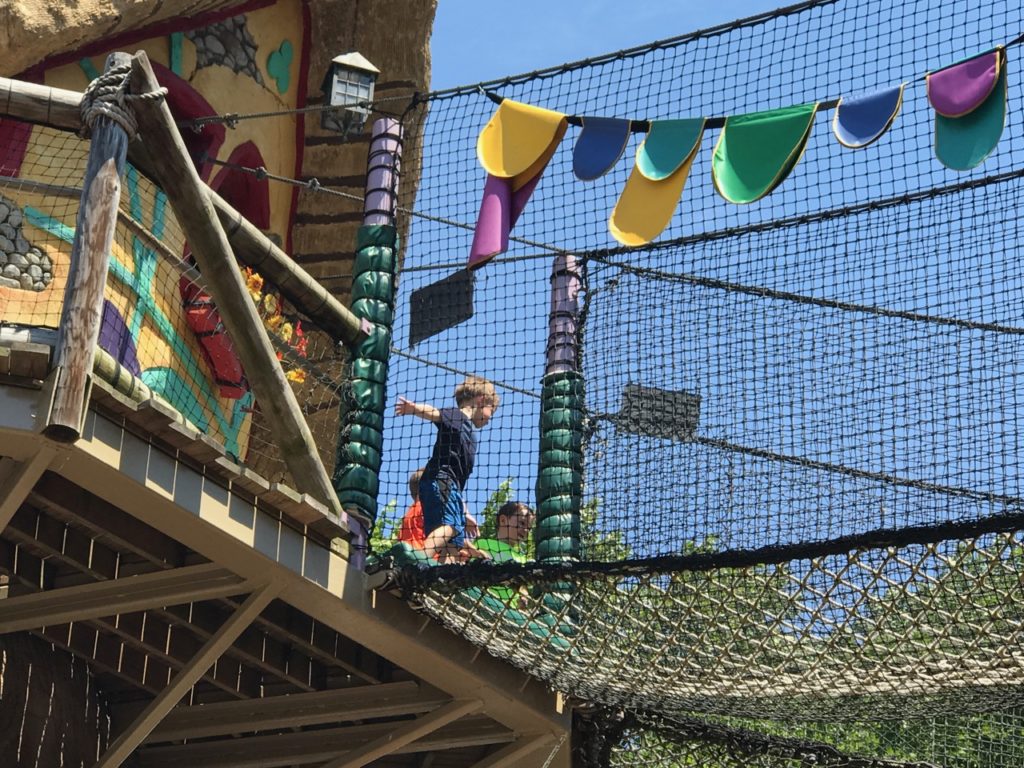 We wished we had more time to visit and get over to Water Country USA, but we were 2 weeks from being relocated to Miami, FL for Delicia's next PCS (Permanent Change of Station).  I had to pack up our house in Virginia, move to Miami with the kids, rent a house, move in and register the kids for school.  Delicia was soon due to arrive back from her deployment to Bahrain.