The Keys are our favorite destination in Southern Florida.  Scenic highway Route 1 spans over miles of blue ocean.   We've camped at the Jolly Roger RV Resort in Marathon Key three times so far.   It's located halfway between Miami and Key West.  Staying at the Jolly Roger isn't really camping, it's "RV'ing".  It's mostly huge Class A's and fifth wheels.  Unlike a national or state park, there's not much to do on site, but it is a great starting point for exploring, seeing the other keys, and hitting the tourist spots.  They even have a boat ramp.  I wish we could figure out how to tow our Casita AND our boat!  The heated and cooled swimming pool is a hit with the boys.  Marathon is a large key and there's shopping and restaurants about 10 miles away.
Thanksgiving 2018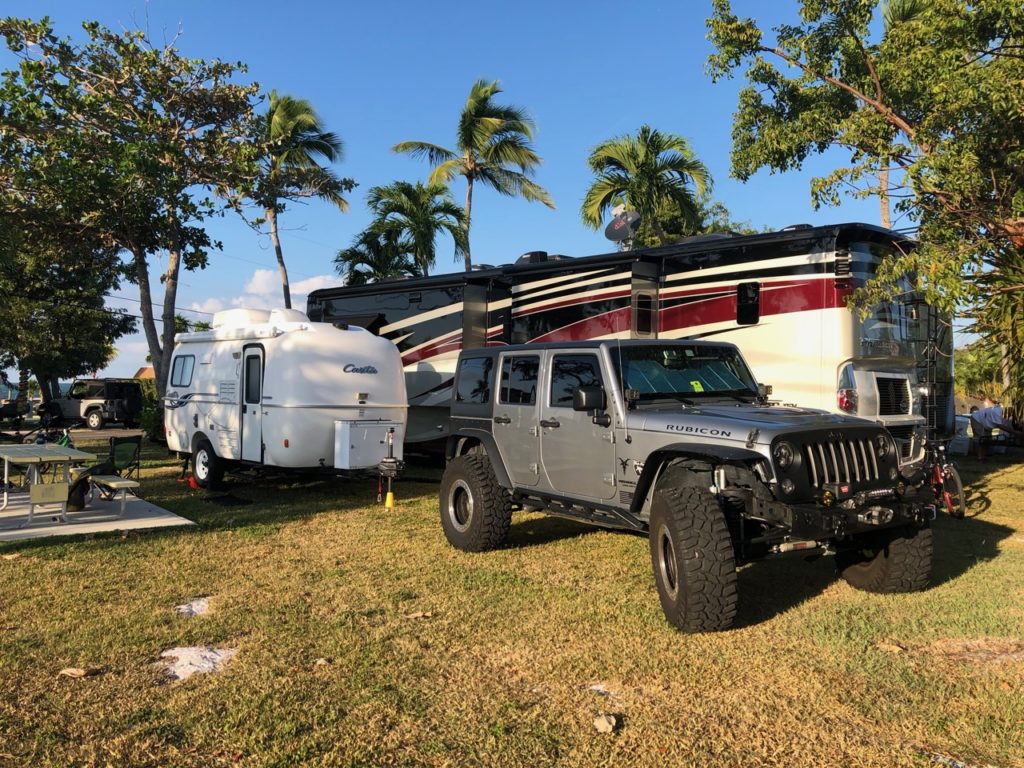 Here's our little spot next to our very large neighbor.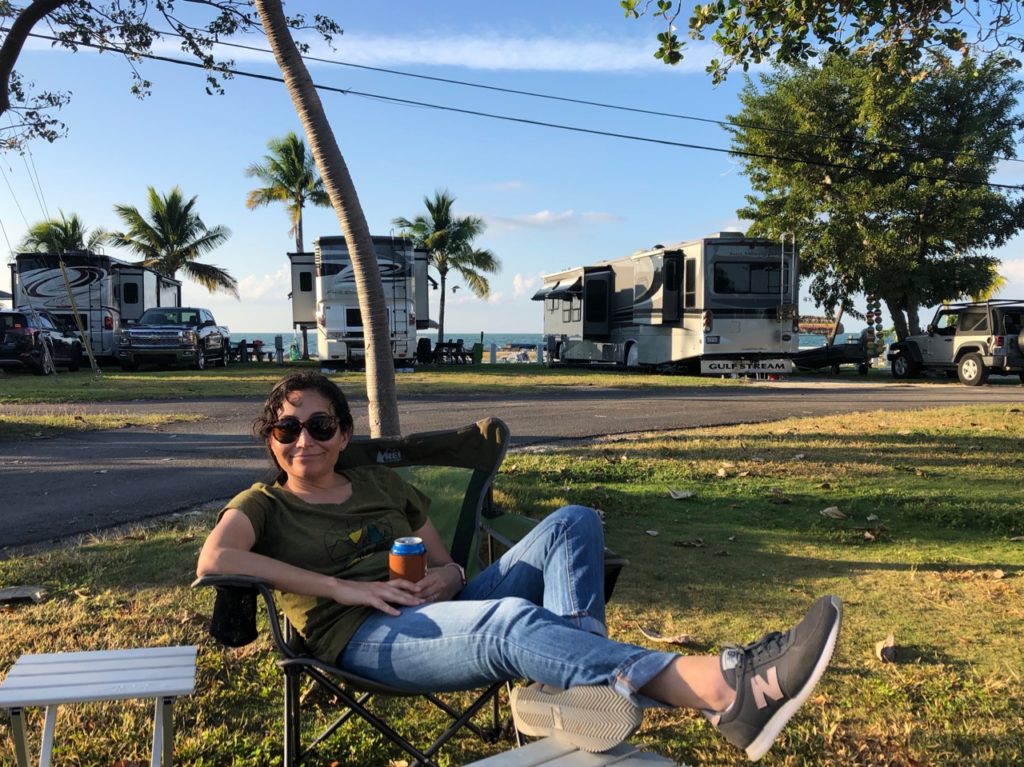 Delicia relaxing after setting up.  We had a partial ocean view peeking between the motorhomes.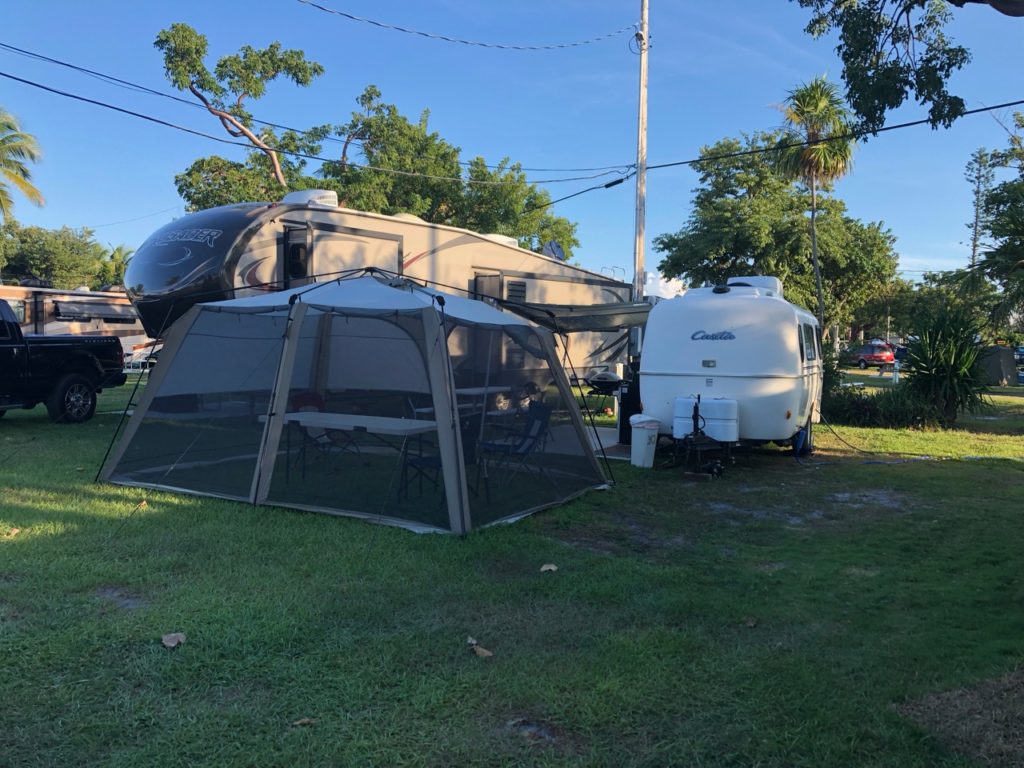 We had the pleasure of meeting another Casita family.  We shared stories, compared Casita modifications, and Delicia even  ran a 5k "Turkey Trot"  with them on a neighboring key.  Here was their set up.  We forgot to get a picture with them!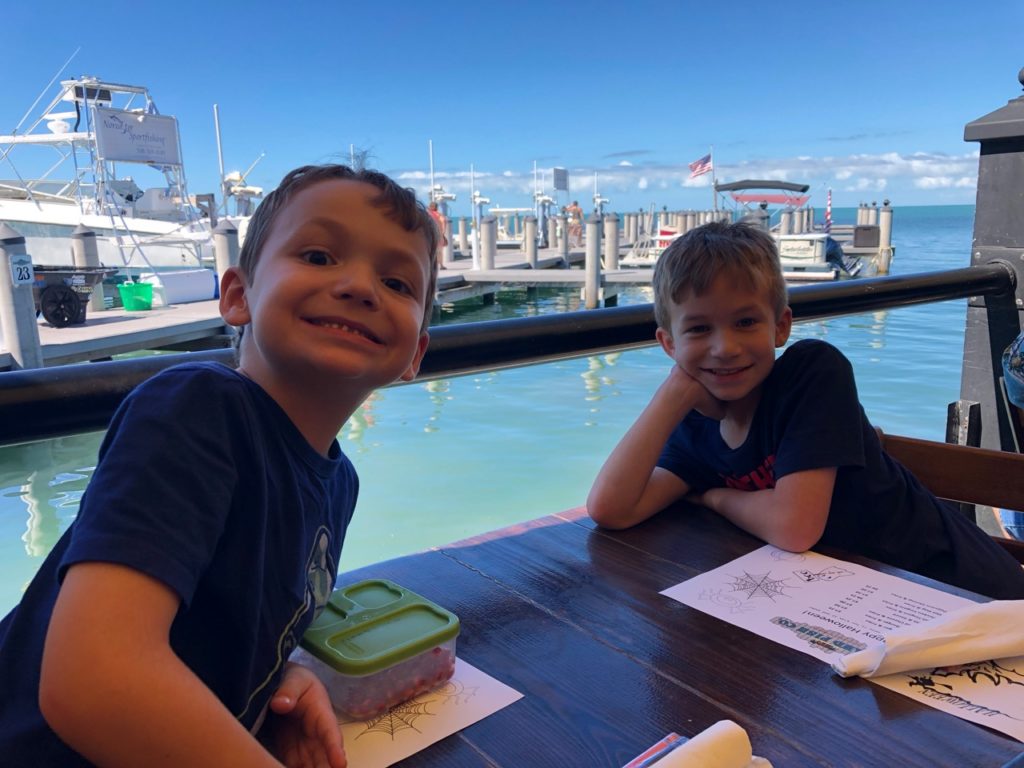 The first night we had dinner at our favorite Marathon Key restaurant, The Island Fish Company (mile marker 54).  The oceanfront dining has its own entertainment as marine life is constantly on display.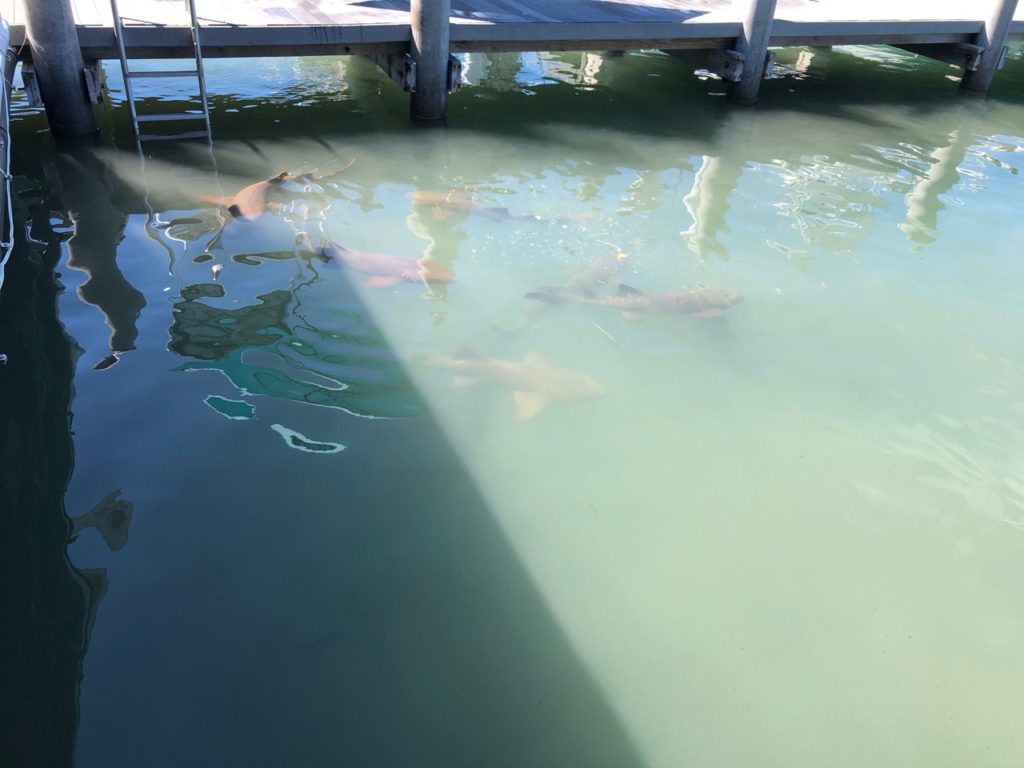 A school of Nurse sharks seen from our dinner table.  We made sure to not lets the kids hang over the railing!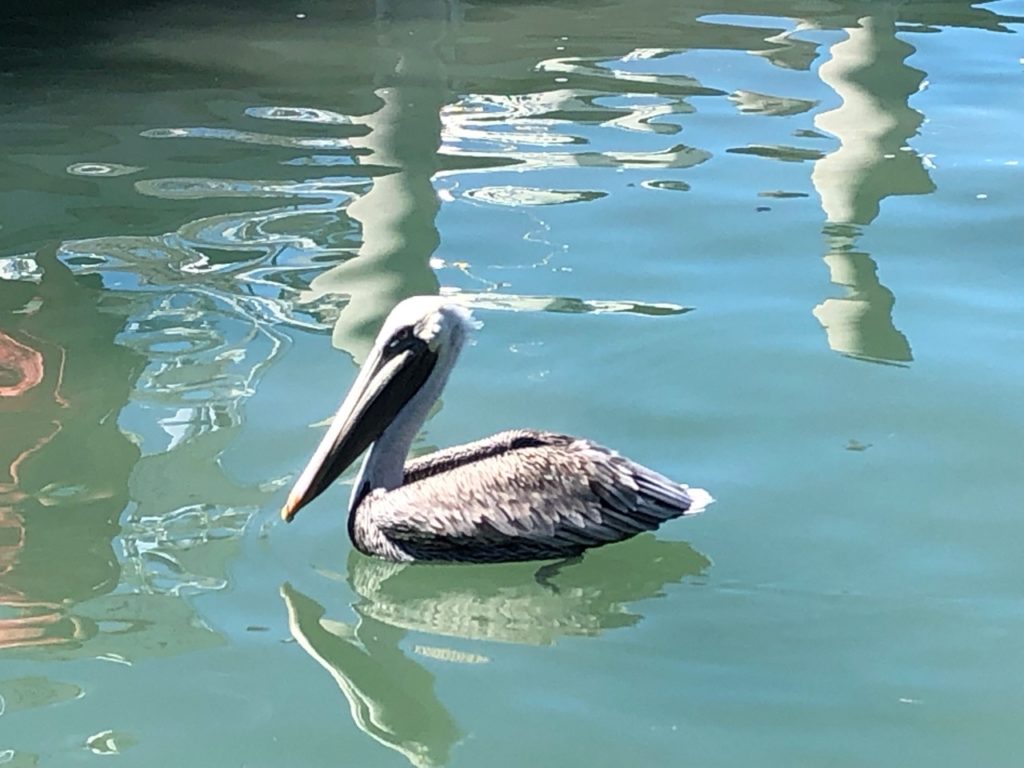 The Pelicans didn't seem to mind.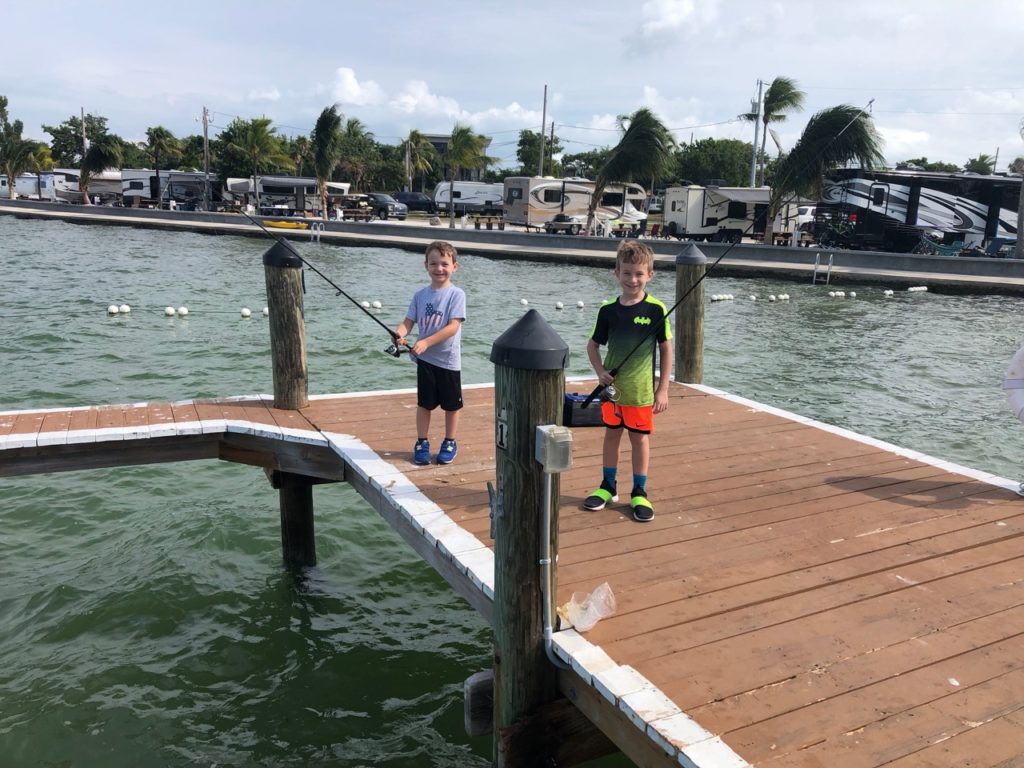 The boys and I did lots of fishing at the pier, although we didn't catch anything.  So much for fresh fish, it was a good thing we brought Turkey.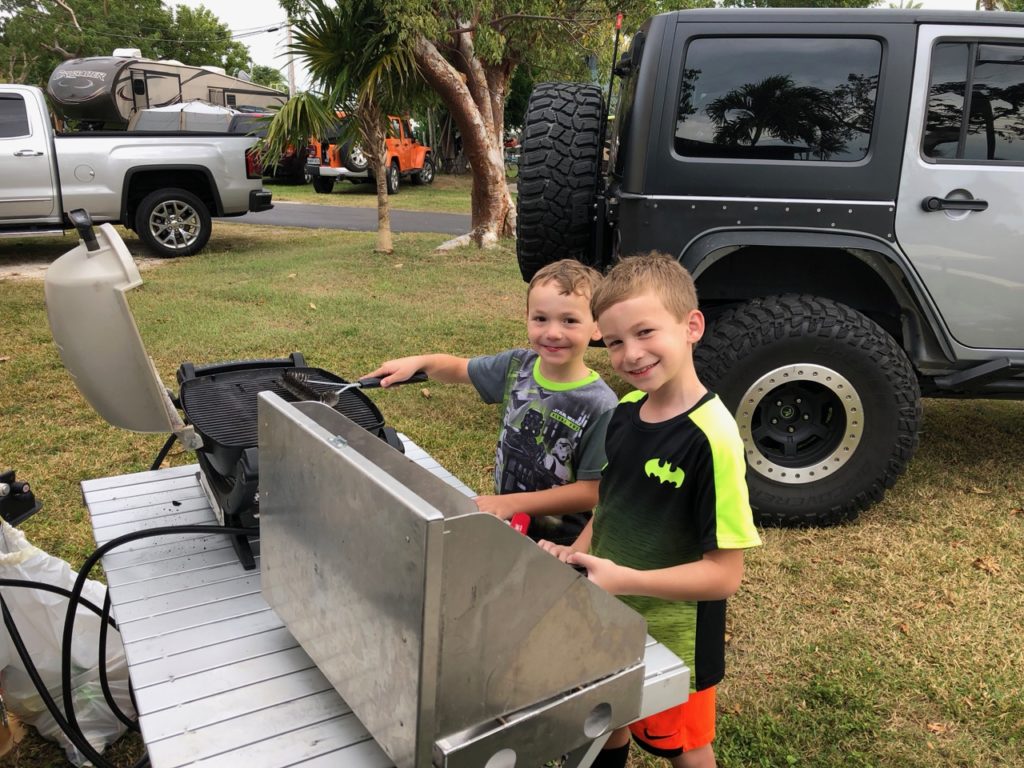 Thanksgiving Day!  The boys are cleaning the grill and helping prepare for dinner.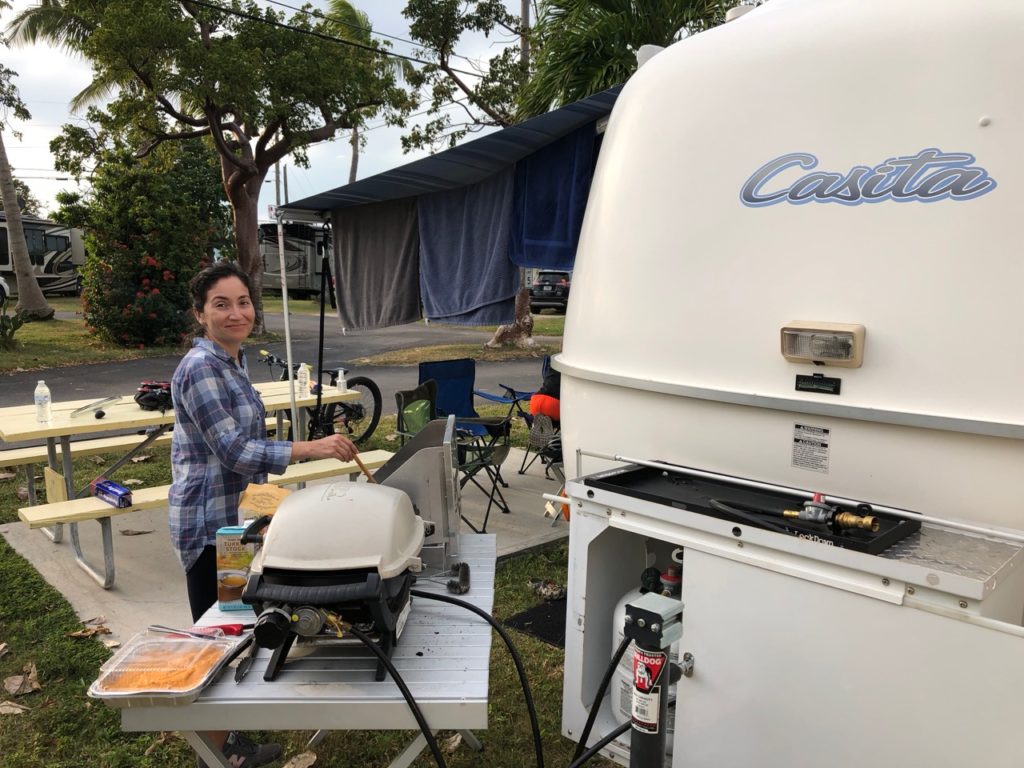 Delicia working her camp cooking magic.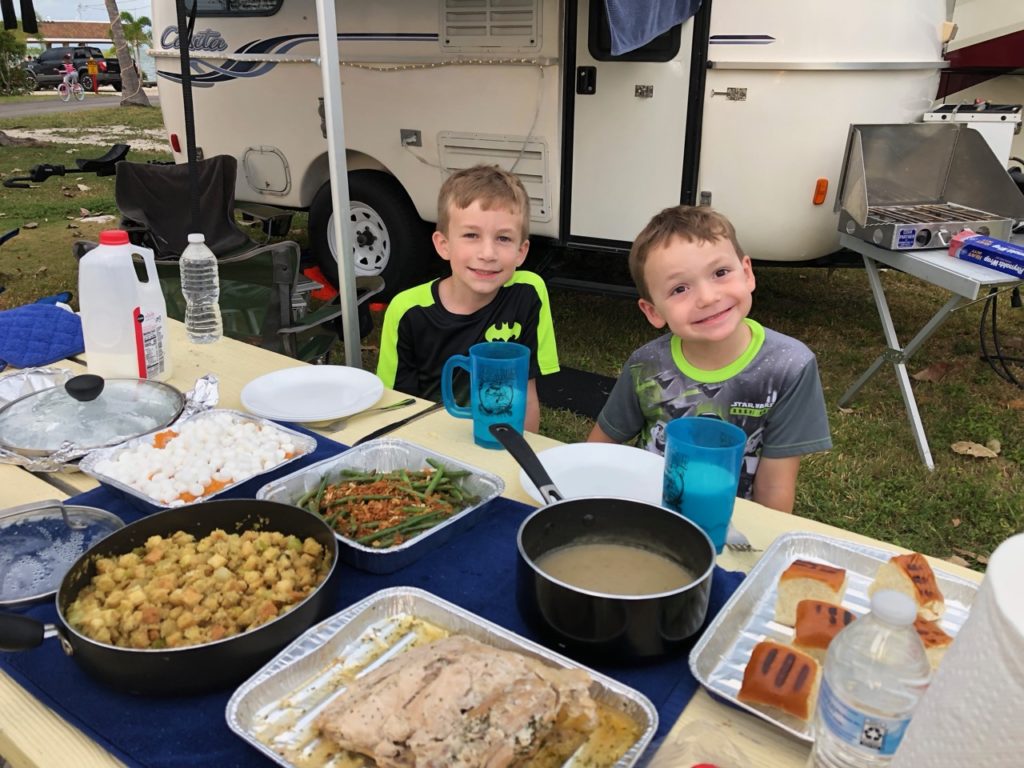 Dinner is served!  I thought we did pretty good for using only a BBQ and a 2 burner stove.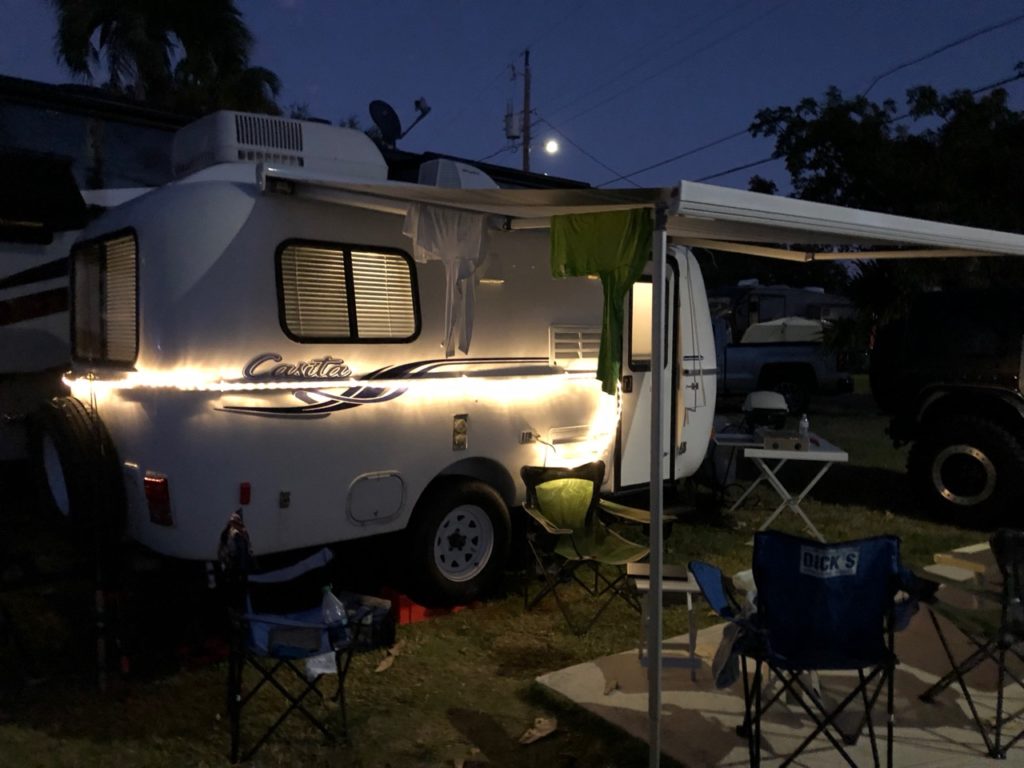 All tucked in for the night.  The next day was more swimming and fishing before returning home from our mini-vacation.
Thanksgiving 2017
We were new to Southern Florida and this was our first trip to the keys with the boys.  The category 4 Hurricane Irma had  hit the keys only 2 months prior.  Things were far from normal.  Driving down route 1, we passed miles of trash and rubble piles, wrecked boats, shredded campers, and destroyed homes littered the landscape.  Luckily the Jolly Roger was up and running.
We took a road trip down to Key West and walked for miles.  We toured Earnest Hemingway's home, which is home to the descendants of his famous 7-toed cats.  The Southernmost Point of the continental US is an obligatory spot for a photo and a slushee.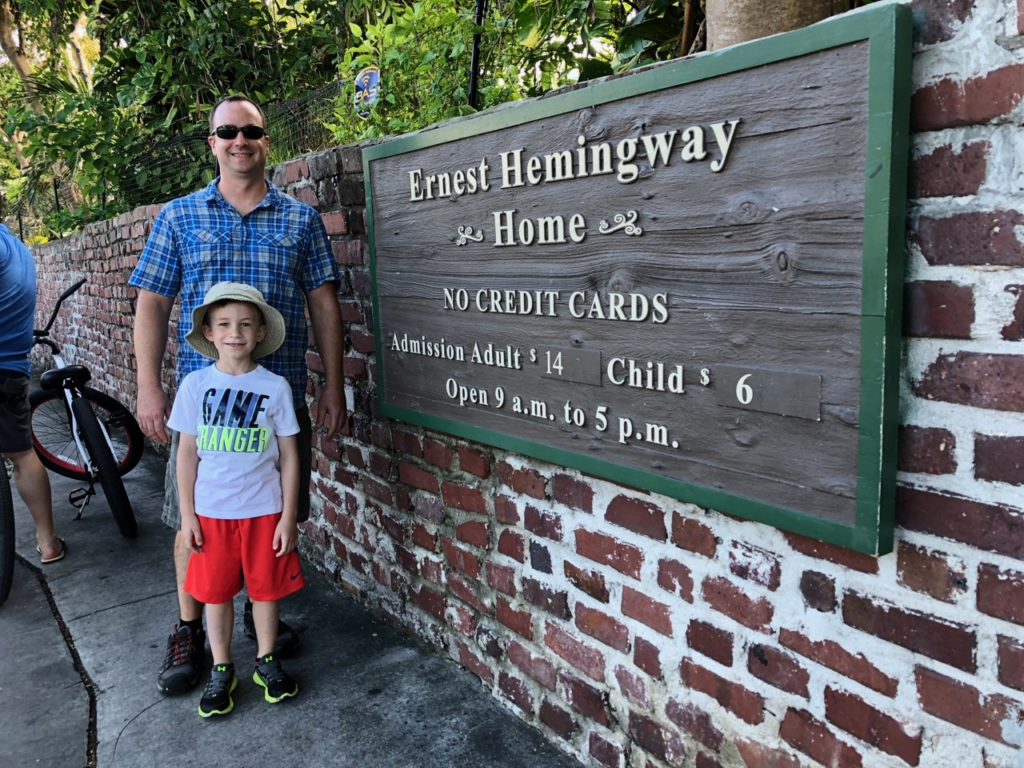 It had been 12 years since I saw Sloppy Joe's Bar and the other watering holes I used to frequent when I was a Navy flight instructor.  We would fly T-34 airplanes down to the Navy base for the weekend with students for training.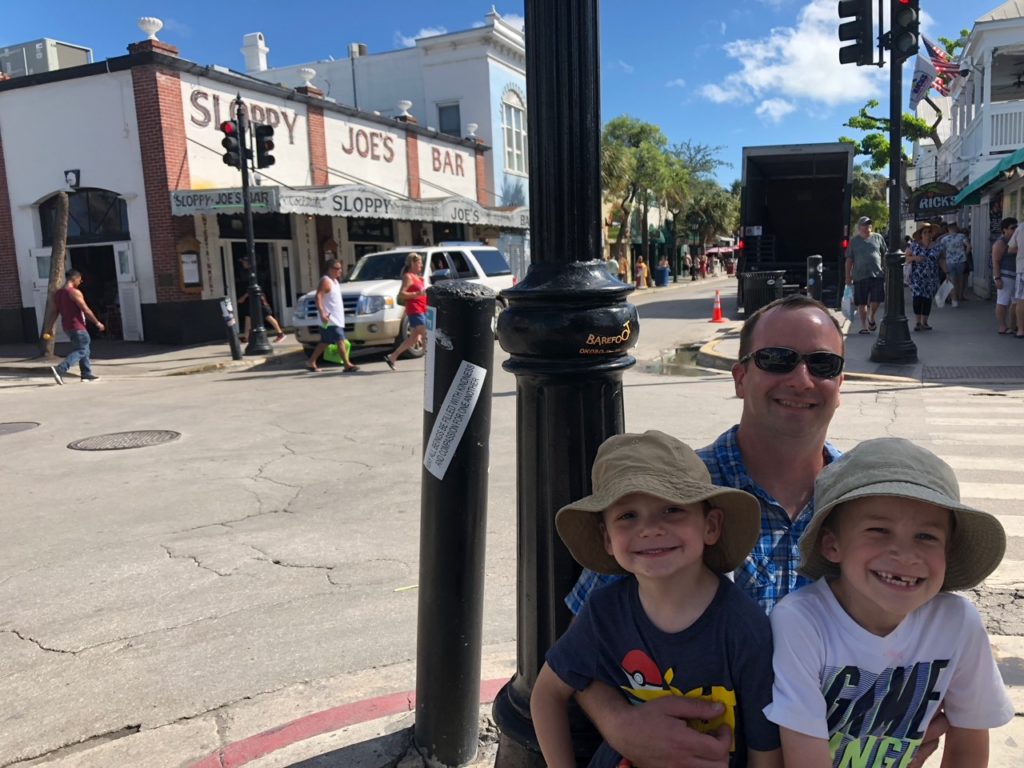 Delicia took on the challenge of cooking Thanksgiving dinner at our campsite.  Turkey breast, homemade macaroni and cheese, and several courses of other yummy-ness all cooked with our Weber grill and propane camp stove.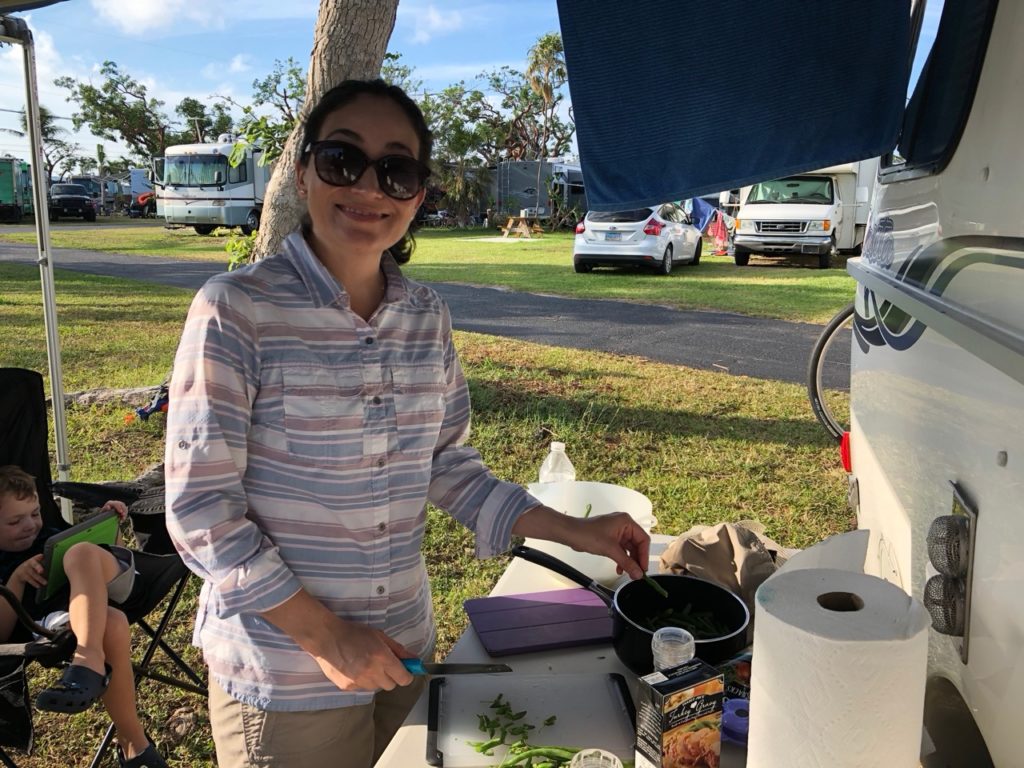 Marathon Seafood Festival- Our first trip to Marathon.
Our Fiamma awning cloth was delaminating and falling apart.  I was about to spend $1000 on a new awning when I saw an ad on the Casita forum selling a "like new" one for a great price.  I clicked on the link and they were in the keys!  "No Name Key" which wasn't far from Marathon.   Unfortunately the seller's  2017 Casita had flooded from Hurricane Irma and was a total loss.  The awning survived so we booked the Jolly Roger and drove down to buy the awning.
Upon checking into the Jolly Roger, we learned that the annual Marathon Key Seafood Festival was going on.  Talk about blind luck.  It was only a few miles away and there was live music, food, vendors, and we had a great time.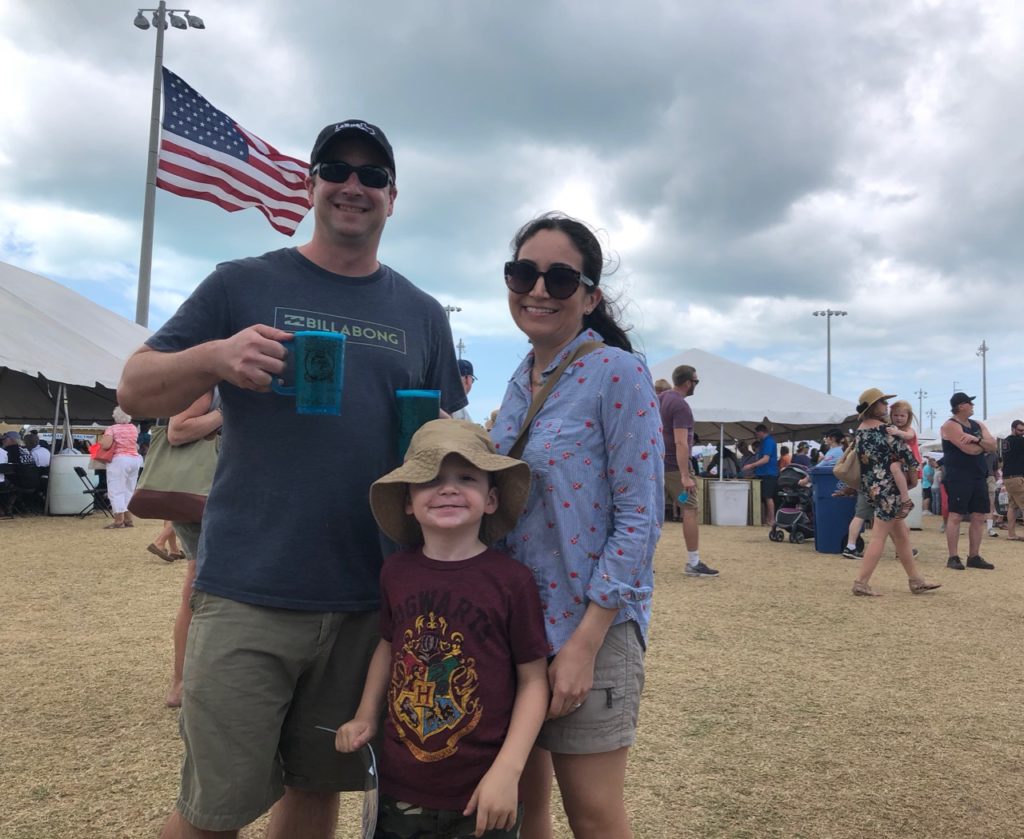 Back at camp we star gazed with Jack's telescope.  We brought rope lights to help make up for the lack of  a campfire.  We attached them to the Casita's "belly band" with holiday light deck clips.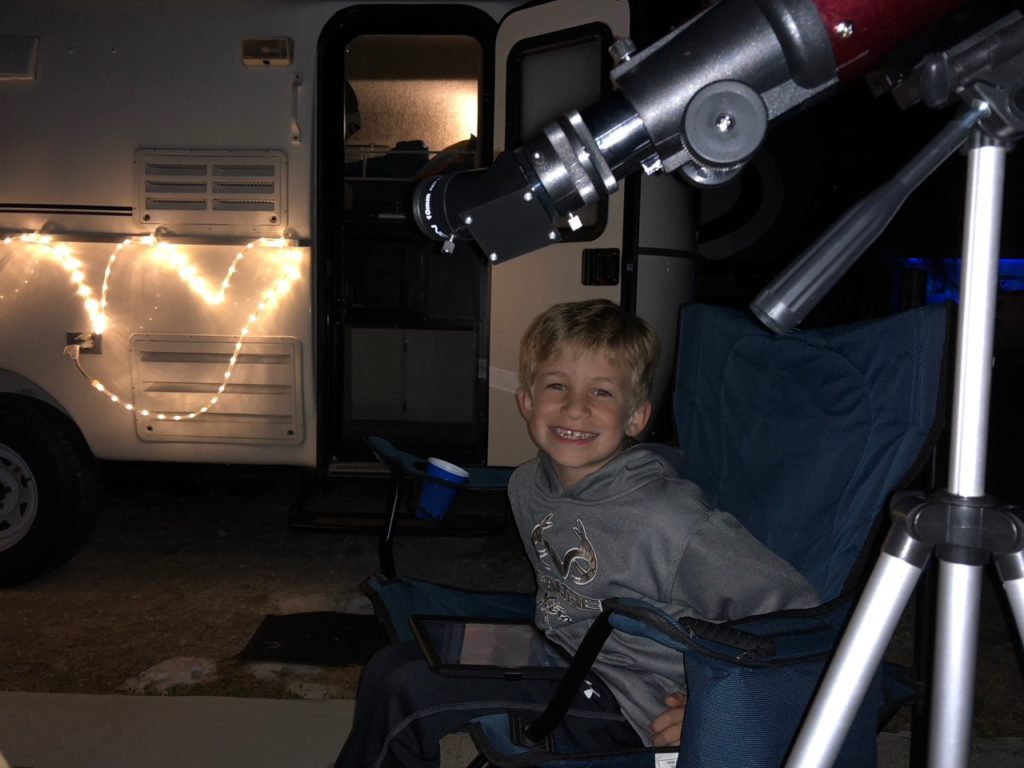 To top it all off the new awning fit right on!