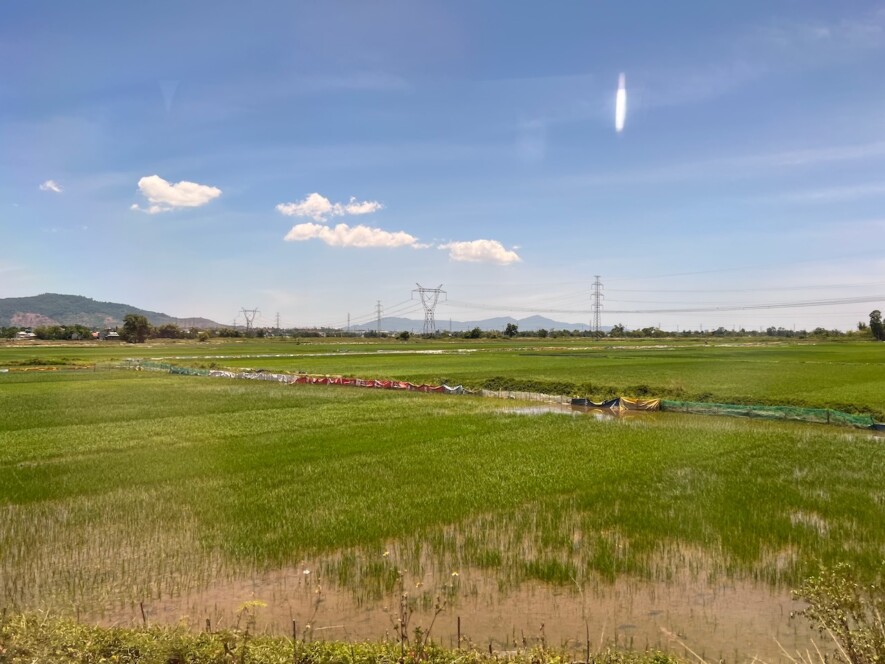 We had train tickets booked well in advance for our trip to Hue (pronounced "way"). That morning I logged onto the train webpage to see if we could upgrade our seats. The first red flag was the other family had the same seat numbers we had reserved and we had none. I pulled up our reservation and read the fine print. I hadn't paid for them and the seats were long gone. When the webpage said I could pay in person at the train station, I assumed I would do that after we arrived. It turned out that was to be done within 4 hours of making the reservation… a month ago. Time for plan B.
Our bus to take us to Da Nang train station was waiting downstairs. Plan B was to pay him extra and see if he would drive the additional hour to Hue. The answer was no. Time for Plan C, ask the hotel front desk for help. After a phone call and a shocked face when we nodded that 3 million dong was just fine with us ($128 for all 8 of us), we paid our driver for his time and waited for our new bus. 20 minutes later, we were on our way to Hue! The trip was scenic and we enjoyed our first views of the rural countryside, rice fields, water buffalo, villages, mountains and some very scary traffic passes.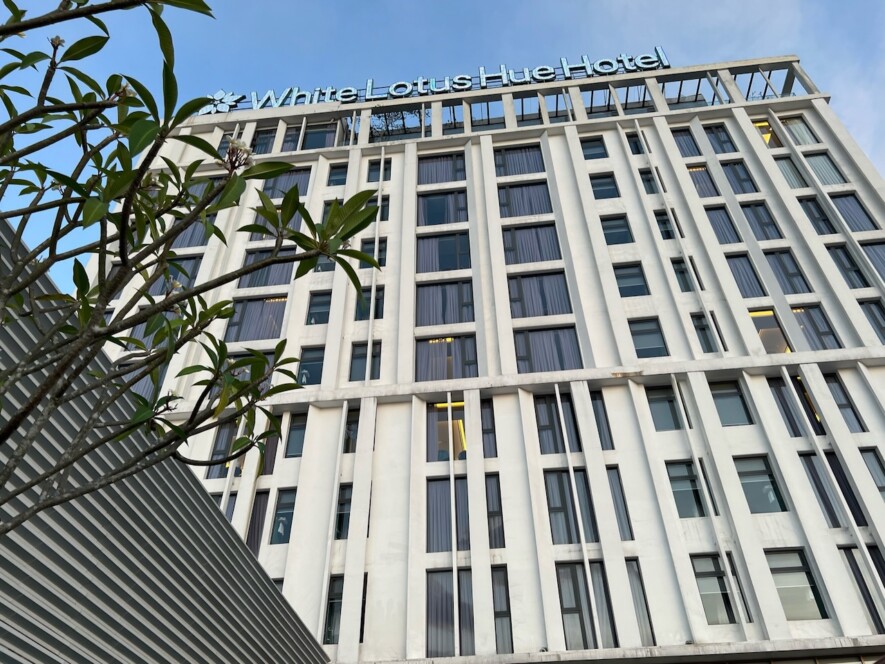 The White Lotus hotel was really nice and modern with awesome views of the city, the Perfume River, and a huge pool on the rooftop. Right downtown it was walking distance to everything in Hue. Around the corner, Nook Eatery became our favorite restaurant with yummy burgers, water melon juice for the kids, and great service. No wonder it was full of "Westerners" like us.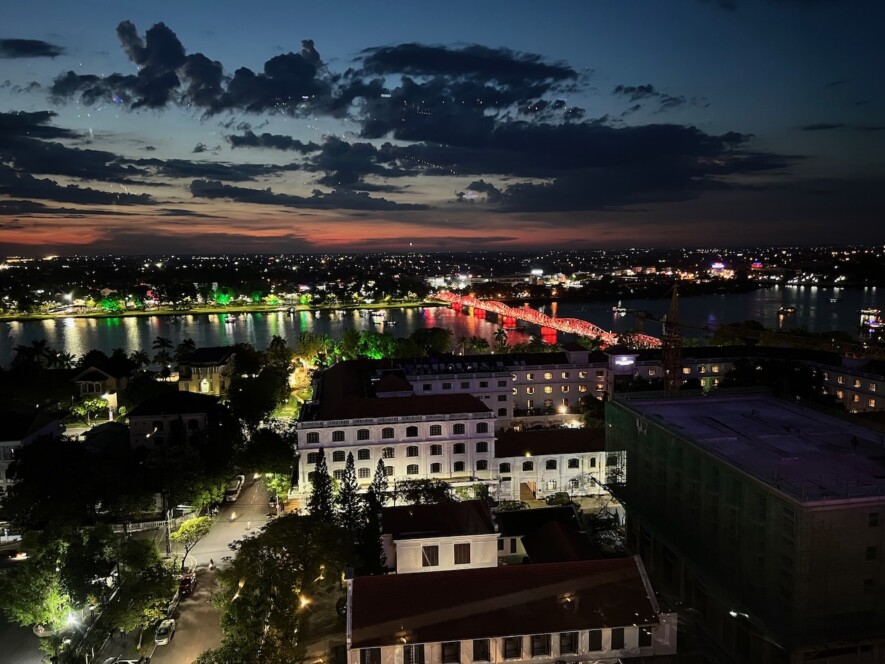 After pool time and some room service, we set out for a walk across the Perfume River to see the Imperial Citadel which is behind a walled fortress. Both sides of the river are lined with open parks, colorfully lit boardwalks and bridges.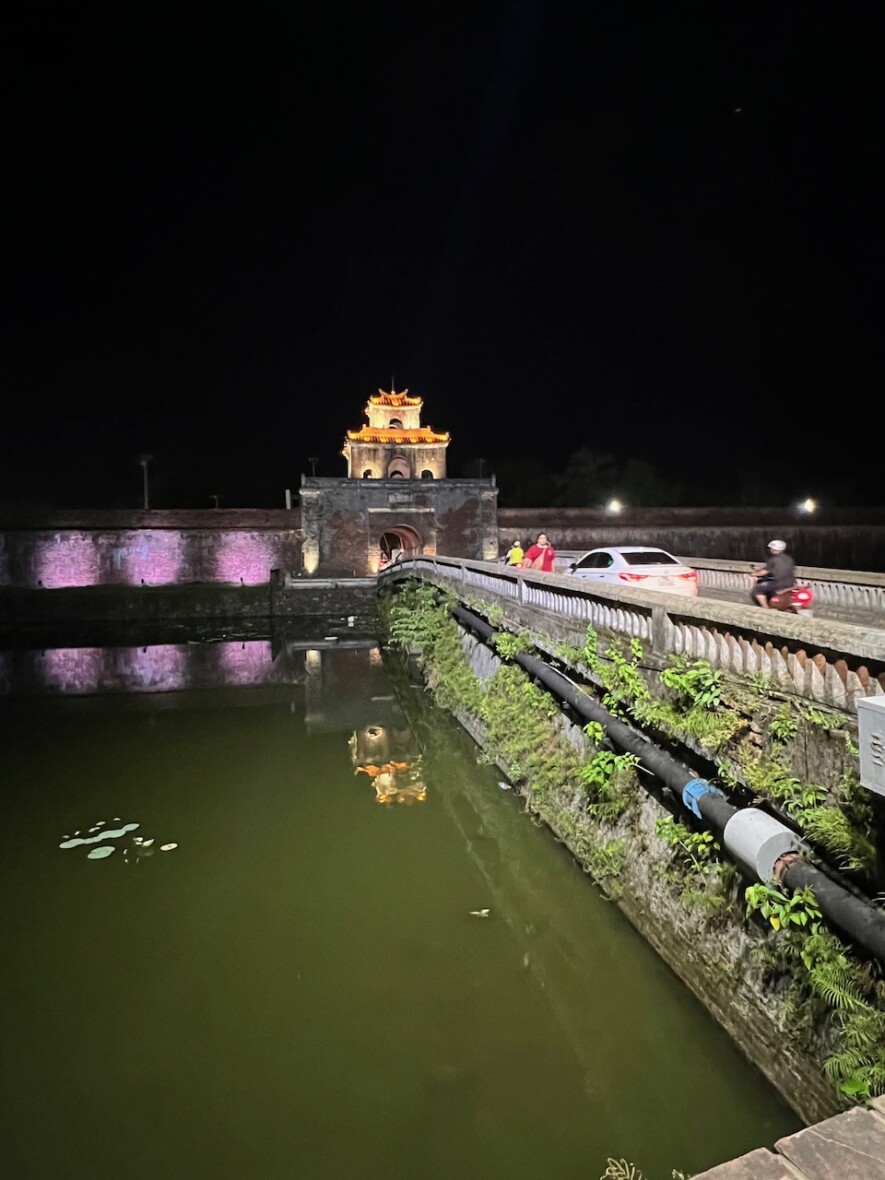 We crossed the river, the moat, and squeezed through the ancient tunnels with traffic inches from us. Then the rain came. Zachary, our youngest, was the only one who brought his umbrella and protected his big brother. We scurried back to the hotel to rest up for the next day's trip, heading North to the DMZ and Minh Moc tunnel system. Stay tuned for our upcoming article on that part of our trip.